French Riding Pony
Under Cover Fast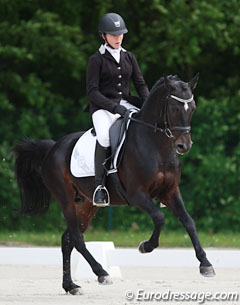 Under Cover Fast is a sturdy modern stallion who proudly makes his presence known in the arena.  He has a short back and he perfect all three gaits. With a good rideability and a go-getter attiude makes him easy to work with on a daily basis.  His couragious attitude propells him forward and enhances his performance and work ethic.
Under Cover Fast was the Vice-champion of three year old dressage stallions in France.  He was also the four year-old dressage Champion, Vice-champion of five and six year old (always Elite). He continued his career in horse and pony racing and qualifed for the Kür of the European Championships 2016 (15th) after having notably placed in Tournament of Aces (3rd in Paris, 2nd at Le Mans).
His sire Latimer won his approval in Germany and placed third in his performance test.  He also became Bundeschampion of 4 year stallions, and was named Champion "Elite Stallion" of his studbook. He was selected for the European Championships for Young Dressage Riders and he won the bronze medal at the German Championships while we was ranked fourth of the Kür.
A lot of potential in breeding for this French Saddle Pony. In 2017, under saddle of Charlotte Palas won the French Pony Championships in the pony level dressage competition (out of 10,000 pony entries!). Under Cover Fast won the title with a team score of 71.75%, placed second in the individual with a 70.93% and winning third in the Kur to music with 72.33%.  The average score was was 71.67% was the highest of the group and earned the gold medal.  His rider said Under Cover Fast, "My pony was very much listening (to my aids) throughout the championships which allowed me to get a good outcome like this.  During the test I was very confident and very concentrated.  I wanted to win and do my best."
---
Stallion Details
Price

Born

2008

Color

Black

Height

14.3 hands

Approved For

French Saddle Pony, Westfalen NA

Status

Archived
---
Under Cover Fast : PEDIGREE
Latimer
Saint Cloud
Neuquen
Silk
Lara XII
Caprimond
Larissa XXI
Mata Hari
Cansas
Cirrus
Granby Opal
Melissa
Lombard
Musse
---
Additional Photos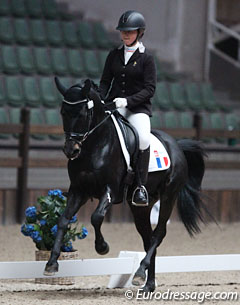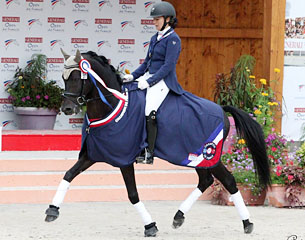 ---