Friesian
Teeuwis 389
(Archived)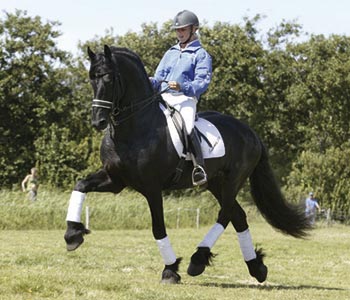 Teeuwis is an extravagant and powerfully built stallion. His walk is long-striding and powerful, the trot has the desired scope with plenty of knee action, whereby the front legs achieve a lot of reach. The canter is regular, scopey and very powerful. The stallion demonstrates balance, regularity and self-carriage in all three paces.
The stallion was approved on the basis of his progeny and received a very good report. All inspected offspring performed above average under saddle and in harness. The uniformity and manner of their movement stood out in particular: beautiful horses typical for the breed, with impressive fronts and textbook movement.
Teeuwis has a good temperament and is very trainable. He is qualified to compete in advanced-level dressage.
---
Stallion Details
Price

Born

1998

Color

Black

Height

16.1h

Approved For

Status

Archived
---
Teeuwis 389 : PEDIGREE
v Fetse 349 Stb
v Feitse 293 Stb Pref
v Jochem 259 Stb Pref
m Lysebeth Ster Pref
m Ordina B. Ster
v Djurre 284 Stb
m Erma Model Pref
m Anke van't Leegmar Ster
v Reitse 272 Stb Pref Sport
v Hearke 254 Stb Sport Pref
m Pauline Ster Pref
m Leidy Ster
v Doeke 287 Stb
m Anke Ster