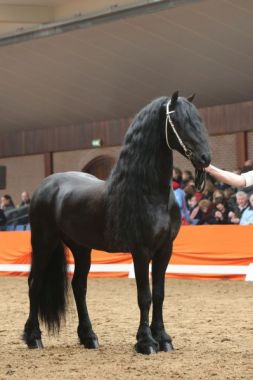 Take 455 Sport has a genetic relationship to the Friesian population that is relatively low, which is reflected in a low inbreeding index of 16.4%. The bloodline from his dam's side is particularly strong, with three offspring receiving Star registrations. KFPS judge Fetse Veldstra describes Take 455 a valuable addition to Friesian breeding stock. "Take is out of one of the better Oltman-mares and will make a positive contribution in the context of inbreeding and relationship percentages. He offers good prospects for future generations and may be considered a kind of half-way house in order to ensure a solid foundation of Friesian breeding stock."
Take 455 has been described as a long-lined stallion, typical for his breed, with correct movement and an imposing forehand. His walk is correct and regular, and he carries himself well in the trot, with plenty of scope and a free shoulder. His canter is uphill and active.
Take 455 shows quality and a beautiful silhouette in both his ridden and driven work, with excellent use of his forelegs in all disciplines. During his Performance Test, he stood out for his attitude and the fact that he is always forward going. The stallion has a high 1st Premium index. All of his offspring move exceptionally well, are built uphill and without exception in the rectangular model.
He performs exceptionally well in the sport and is successfully competing in advanced-level dressage with Brandien den Hartog.
---
Stallion Details
Price

Archived

Born

2006

Color

Black

Height

16.2-1/2 hands

Approved For

KFPS

Status

Archived
---
Take 455 : PEDIGREE
Jacob 302 Stb Sport
Naen 264 Pref
Ferdinand 252 Stb
Truus Model Pref
Tunke Star
Mark 232 Pref
Vogeltje Star
Imkje ut 'e Reiden Star Pref
Oltman 317 Stb
Tamme 276 Stb
Ulske-Sietske v.d. Hertshoorn Model
Atsje H. Star Pref
Tsjalling 235 Pref
Wieske Star Pref
---
Additional Photos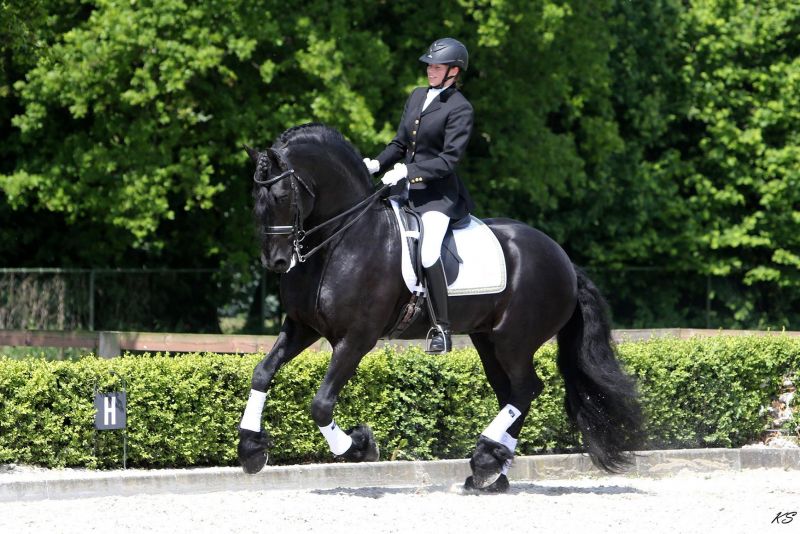 ---