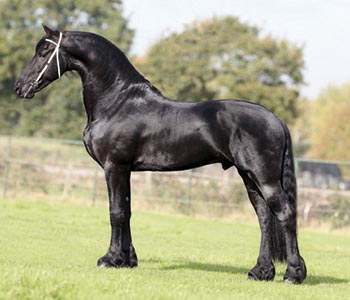 The Inspection judges consider Stendert a stallion who is nicely put together with a typically Friesian stamp. His exterior is correctly proportioned and his lineage particularly noteworthy. As chairman of the Stallion Inspection and KFPS judge Fetse Veldstra puts it: "The lineage on Stendert's dam's side is extremely strong, and we haven't got one of those stallions yet. One of the best pedigrees of the studbook. The bloodlines are very nice too. Stendert shows scope, regularity and elasticity in all three paces, with the hind leg placed nicely underneath his body. The stallion presents a super outline in walk, trot as well as canter and uses his back in an exemplary fashion."
Stendert has been described as a friendly stallion who is very willing to work. Head of training at the Stallion Performance Testing Days Susan Bouwman-Wind praises the stallion's ability to collect and extend as well as the use of his hind legs. In her opinion, Stendert distinguishes himself through his balance, elasticity and suppleness. The stallion shows an excellent attitude to both his ridden and driven work.
Stendert has achieved the Sport Predicate and competes under Sabine vd Loenhorst in advanced-level dressage.
---
Stallion Details
Price

Born

2005

Color

Black

Height

16.1 3/4h

Approved For

Status

Archived
---
Stendert 447 : PEDIGREE
v Andries 415 200037791 Stb Sport
v Tsjerk 328 199008331 Sport Pref
v Feitse 293 198302931 Stb Pref
m Wijkje 196855180 Model Pref Prest
m Gitte 199405350 Stb Ster
v Nykle 309 198703091 Stb
m Sjoeky 198903140 Stb Ster Pref
m Aukje Boszorg 199203990 Model Pref
v Piter 312 198803121 Stb
v Nykle 309 198703091 Stb
m Redia 197865580 Stb Ster
m Hanneke Boszorg 198478690 Model Pref
v Lammert 260 197502601 Pref
m Whita 198068960 Model Pref