Hanoverian
Sandokan
(Archived)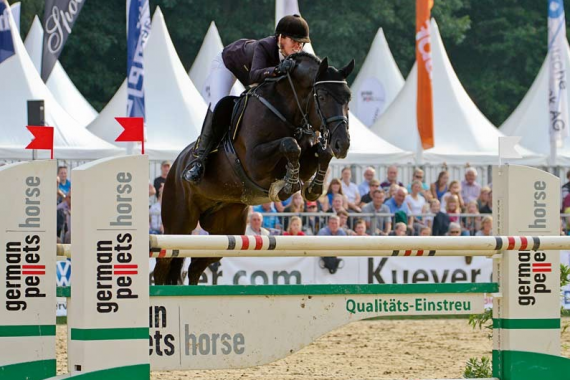 The outstanding 2013 Bundeschampion!
He was the easy favorite of the 2013 Bundeschampionate in Warendorf, Germany, and he did not disappoint. Sandokan had twice received 9.5 in the qualifications, and then went on to scores of 9.5 and 9.7 in the finals of the championships which is something that has not happened on the Warendorf show grounds in the last 20 years!
Sandokan was already turning heads during his 70-day performance test in Adelheidsdorf. For his jumping ability he received a perfect score of 10.0, and his first offspring are being eagerly awaited this spring (2014).
The combination of the Bundeschampions Stakkato (1998) and Landor S (1997) is notable in Sandokan's pedigree. Stakkato dominated the FN's breeding value index of jumping sires twelve times in a row. With Eva Bitter in the saddle, Stakkato won the 1998 Hanoverian Show Jumping Championships at Dobrock and the Bundeschampionate in Warendorf. In 2003 and 2010, Eva Bitter, riding Stakkato, became the female German Champion.
Sandokan's damsire, Landor S, was the Bundeschampion as a six-year-old show jumper in 1997 and has won advanced (S) classes. His sons, Lovis Corinth and Lauterbach, were both champion stallions at their respective licensings of the Oldenburg-International (OS) show jumping studbook. Since then, the total number of licensed sons has increased to 33.
The black stallion, Graf Grannus, in Sandokan's third generation produced 21 licensed sons. In the competition arena his sons impress with great success year in and year out. He was deservedly honored as the "Hanoverian Stallion of the Year" in 2004.
Sandokan is inbred six times to the Hanoverian jumping legend Gotthard, twice through Stakkato, once through Landor S, and three times through Graf Grannus. The genetic quality of this meaningful sire has come into effect.  Sandokan's pedigree if further strengthened by the Thoroughbreds Daimyo xx, Graphit, and Wortschwall, the sire of Warwick Rex.
Sandokan stems from the Hanoverian mare line 381/Feldbluemchen (by Feldhah – Allweider) which comes from the traditional Hanoverian breeding farm, Haenigsen. This line has produced 23 approved stallions including Accellerator, Caravazzo, Check In, Corghano, First Gotthard, Flomeyer, Fuerstengold, Fuerstenstolz, Granit, Ingold, Maronjo and Polygraf, as well as the internationally successful jumpers Effra (ridden by Jaime Azcarraga of Mexico), Elwood (ridden by Carsten-Otto of Germany), Wanja 129 (ridden by Norber Nuxoll of Germany), and Lady Liberty (ridden by Gilbert Boeckmann of Germany).
Sandokan has it all!
---
Stallion Details
Price

Born

2008

Color

Black

Height

16.2 H, 168 cm

Approved For

Hanover, Oldenburg, OS-International, Mecklenburg, Rhineland, Southern German Stud Books, Westphalia

Status

Archived
70 Day Performance Test, 2012 Adelheidsdorf: Dressage: 7.45, Jumping: 8.91, Overall: 8.15

Schockemoehle Stud stallions require a 1 or 2 dose contract
---
Sandokan : PEDIGREE
Stakkato
Spartan
Servus
Gottilde
Pia
Pygmalion
Goldfeder
Lare
Landor S
Landadel
Fureida 2
Geona R
Graf Grannus
Doloris
---
Additional Photos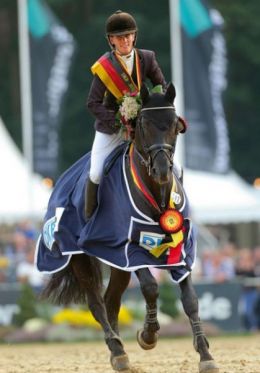 ---