Selle Francais
Quidam de Revel
(Archived)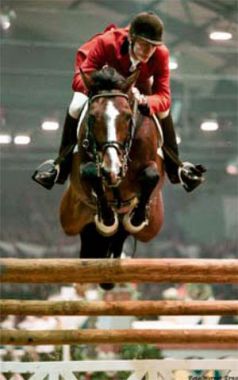 Having passed away in early 2014, Quidam de Revel will be remembered not only as a world class Nations Cup and Olympic jumper, but as a prolific elite sire as well.
Under Herve Godignon, Quidam de Revel won the 1990 Nations Cup in New York as well as the Grand Prixs in New York and Dortmund. The eight year old stallion won over one million Francs that year. In 1991, Quidam and Herve not only were team fourth and individually sixth at the European Championships in La Baule, they also won the Nations Cup in Hickstead, were second in Rotterdam, seventh in Calgary, and were fifth in the World Cup finals in Gothenburg, Sweden.

Representing France, Herve and Quidam de Revel helped secure the team bronze at the 1992 Barcelona Olympic Games and were fourth individually. That same year, they won the Nation Cups of Rome and Dinard as well as the Grand Prix of Rome.

In 1993, Quidam was sold to the Velin family of Denmark. Under Charlotte Velin, he won the Scandanavian Young Riders championships, and after her brother Thomas took over the reins, Quidam was 4th in the 1993 Grand Prix of Oslo, seventh in the Millstreet World Cup qualification, and 3rd in the stallion class in Mechelen as well as the Danish derby.

In 1995, Quidam and Thomas went on to 3rd in the Grand Prix of Neumuenster and placed in the Volvo World Cup, the Masters in Zurich, the Munich Grand Prix, the Swedish derby in Falsterbo, as well as the CSI-As in Spangenberg and Valkenswaard.

After more placings at Grand Prix, Thomas and Quidam were fourth at the 1996 Young Rider European championships, and in 1997, they went on to win the Grand Prix of Hanover and were fifth in the Helskinki World Cup qualification. They also placed in the World Cup qualification in Paris and the Volvo World Cup finals in Gothenburg.
In 2001, Quidam de Revel was retired from his illustrious competitive career at the amazing age of 19 and was able to focus on being a legendary sire.
Quidam de Revel's ability to produce top class talent was noticed as soon as his foals started hitting the ground in 1988. He has produced more than 30 approved sons in Germany, and in 2012, eleven of his offspring competed at the London Olympic Games. The success of his offspring has kept Quidam at the top of the WBFSH jumper sire rankings for years. In 2014 he was ranked 10th.
His best known offspring are Dollar de la Pierre (aka Tlaloc la Silla, 2000 Olympic finals, 2002 WEG team gold medalist under Reynald Angot), Nabab de Reve (2002 WEG team bronze under Philippe Le Jeune, approved sire with internationally successful offspring), Giudam (aka Adagio IV, approved KWPN sire with internationally successful offspring), Kador du Valn, Le Prestige St. Lois de Hus, Queen Liesa, Quite Capitol, Bianca D'Amaury (Rodrigo Pessoa), Quel Homme (2005 German national champion under Rene Tebbel), Circa Z, Coco Chancel and Etoupe.
Quidam de Revel stems from the outstandingly successful Alme-Jalisco B line. Jalisco B represented Portugal at the 1998 Seoul Olympic Games before retiring to stud and producing horses such as Quito de Baussy (World and European champion in 1990 and 1991 under Eric Navet) and Dollar du Murier (2002 WEG team gold and individual silver).
Quidam de Revel's dam, Dirka was also an international winner under Nelson Pessoa and was a ¾ sister to the French stallion Uriel.
---
Stallion Details
Price

Archived

Born

1982

Color

Bay

Height

16.3 H

Approved For

Selle Francais, Holstein, OS Oldenburg Intl., Denmark, KWPN, Belgium, Sweden

Status

Archived
Stallion performance test done through success in sport
FN Breeding Value Index 2013: Jumping 140 (97%), Dressage 85 (95%)
Death in February 2014
---
Quidam de Revel : PEDIGREE
Jalisco B
Alme Z
Ibrahim
Girondine
Tanagra
Furioso xx
Delicieuese
Dirka
Nankin
Fra Diavolo xx
Constellation
Ondine de Baugy
Harphortas
Nadine
---
Additional Photos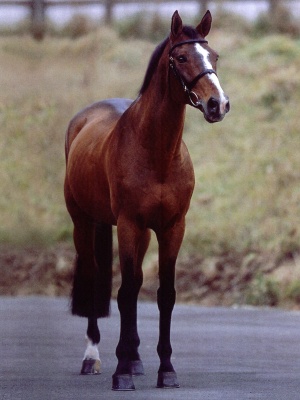 ---