Pier is an impressive stallion, typical for his breed, with good proportions and a rectangular model. The stallion exudes quality simply by the way he moves. Pier walks, trots and canters with plenty of scope, power and regularity. He places his hind legs well underneath his body in all three paces and demonstrates excellent balance as well as self-carriage. Head of training at the Stallion Performance Testing Days Susan Bouwman-Wind says: "Pier naturally possesses a lot of balance; every single step is correct. In all three paces, he shows regularity, rhythm and suspension." KFPS Judge Herman Smit was equally taken by the suppleness, elasticity and regularity of the stallion's movement. "We enjoyed having him. He was a pleasure to ride and easy to drive. He is consistent in the way he moves and is well put together. He is able to coordinate his body in all three paces. He uses his hind legs in just the right way and is thus able to carry himself."
EVA positive. Also carries dwarfism gene. 
Diederik van Silfhout competes with this stallion very successfully in advanced-level dressage.
---
Stallion Details
Price

Born

2005

Color

Black

Height

16.3 1/2h

Approved For

Status

Archived
---
Pier 448 : PEDIGREE
v Beart 411 200008071 Stb Sport
v Jasper 366 199520431 Stb Sport Pref
v Olof 315 198803151 Stb
m Antje ut de Mieden 198171530 Stb Ster Prestm
mSetske F 198911190 Ster Pref
v Feitse 293 196102231 Stb Pref
m Kingke 197562460 Stb Model Pref
m Jikke N 198583130 Stb Ster
v Aiso 279 198102791 Stb
v Tsjalling 235 196702351 Stb Pref
m Lipkjen 197561970 Stb Model Pref
m Frisianna 19728500 Ster Pref
v Mark 232 196402321 Stb Pref
m Mariannaa 196455310 Stb
---
Additional Photos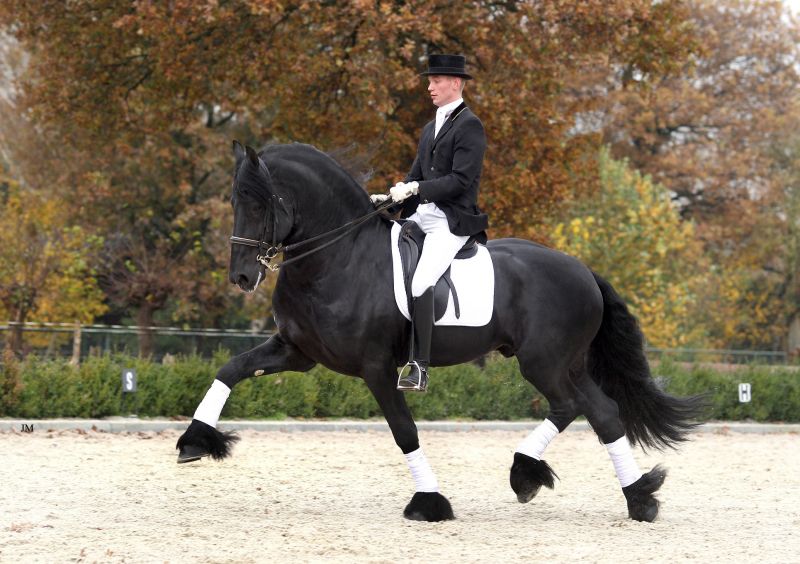 ---