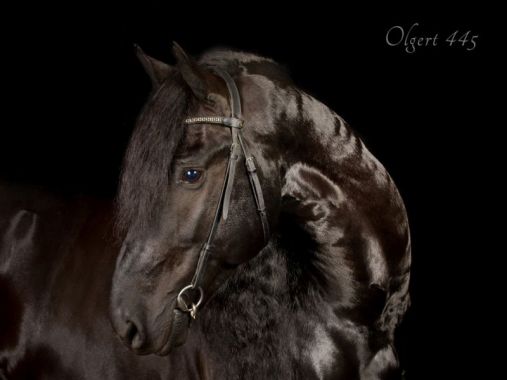 Olgert in 2013 with an excellent report finally approved on offspring. During ABFP tests Olgert showed a uniform group offspring with much zest, a fine character and three very good gaits. Additional notable was the four-year-old mare Echoes of Love TCB (MV. Beart) that the test ended with a whopping 84.5 points under saddle and 86.5 points for the tightened part. That she is now permanently Crown.
Olgert stems from strain 44, which sport talent and movement are strongly entrenched. A line that is also characterized by many sports and inspection stoppers. A nice trot and smooth, spacious corridors characterize Olgert's offspring. That this next generation of a class of its own let his son Fryso have recently seen. Fryso (Olgert Doeke 445 x 287) is one of the five new studbook stallions and will henceforth as Fonger 478 go through life. This topper finished the exam with good grades and showed off the best step during the performance test of stallions. Chip off the old block Olgert, who was the top performance of his year.
Olgert has achieved great success in the harness sport with Jerry Hamming. As they won the Young Riders Competition 2010 and became champion in the class of honor North in 2012. That Olgert a true all-rounder is we're seeing it with Dunja Constant has switched to dressage. In a year they achieved the ZZ-heavy and the end is not yet in sight.
---
Stallion Details
Price

Born

03/19/2004

Color

Black

Height

16 1/2h

Approved For

Status

Archived