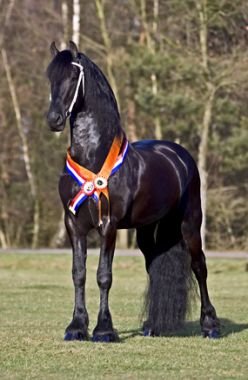 2010 Reserve Champion
2012 Young Stallion Champion & Grand Champion
2013 Young Stallion Champion & Grand Champion
2014 Champion Older Stallions & Grand Champion
Norbert is a young, magnificent stallion who beautifully demonstrates the Friesian breed type. He has an expressive head and a long, shapely neck which accentuate his uphill and well balanced, rectangular conformation.
Norbert has a very strong, predicate rich pedigree. His dam, Amalia-Annie (Model, Pref), was the champion of the 1996 Central Keuring and the reserve champion of the 1997 Central Keuring.
In 2010, Norbert successfully competed in harness sports, and he was the decisive winner of the southern regional show. He then finished out the year by winning all of the league matches and the final. In 2011, he moved into the sport of dressage, and he is now competing at Z level where he has accumulated enough victory points to earn the sport predicate title.
Norbert's offspring have also performed very well. For many years in a row, he has produced a very high percentage of 1st and 2nd premium foals, and at several Breeder's Days, his foals qualified for the foal championship resulting in multiple foal champions! In 2012, the first three-year-old sired by Norbert was presented at a Keuring and achieved a very high ster percentage: 69%! His first daughters were also provisionally declared Crown at the Central Keuring, and during the Breeder's Day in Helden-Panningen, the two-year-old Grietje van de Gonda won the young horse championship and was the grand champion of the day.
The 2013 Central Keuring was a highlight for Norbert. His daughter Ilse Ida T was the champion of the 3 yr. old mares and Grieje van de Gonda was the reserve champion. Norbert's daughter, Elza Maaike v.d. Noeste Hoeve was the 4 to 6 yr. old champion, and the 2 yr. old Janneke B was the champion of her division and the Grand Champion of the Central Keuring!
Norbert also had 2 sons who completed their stallion performance test with one of them winning the test.
During the first inspection round in Ermelo, no less than 8 sons of Norbert made it to the second round. In Leeuwarden, 5 sons of Norbert were referred to Central Research. They were impressed both with his appearance and conformation as well as his movement.
Norbert impressed the audience and judges alike at the 2012 Friesian stallion championship (HK) in Leeuwarden where he was named the grand champion, and this year he repeated that outstanding feat. At the 2013 HK, Norbert was invincible winning the young stallions championship and was once again the grand champion. He was also named the 2013 Stallion of the Year!
In 2014, Norbert lived up to the expectations he's been setting by being the Grand Champion of the HK once again afte having won the older stallions division. Time and time again we are awed by his magnificent and elegant appearance in combination with his powerful trot.
---
Stallion Details
Price

Archived

Born

2004

Color

Black

Height

16.1 3/4h

Approved For

Friesian

Status

Archived
---
Norbert 444 : PEDIGREE
Tsjerk
Feitse
Jochem
Lysebet
Wijkje
Nanne
Wietsche
Amalia Annie
Hearke
Mark
Gelbrich
Cevia
Peke
Marieta
---
Additional Photos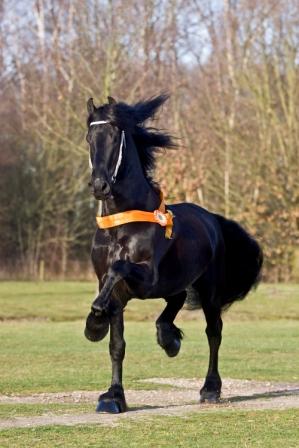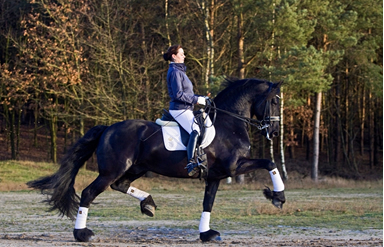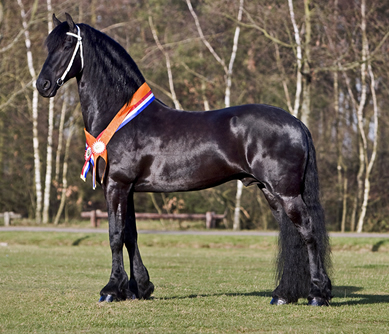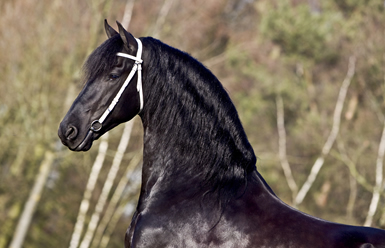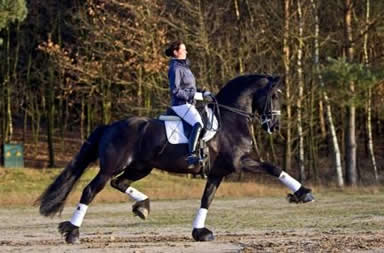 ---