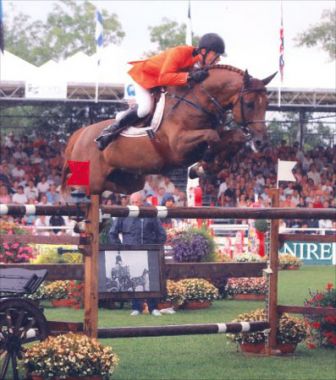 Nassau was honored as the 2005 KWPN Stallion of the Year with good reason. He was the top ranked Rabo/KWPN sire, the silver medalist in the 2005 Dutch Championships, and the individual and team bronze medalist at the 2005 European Championships held in Italy. It was the peak of an illustrious performance career rarely matched in success.
After being licensed, Nassau's victories quickly began piling up. He was the winner of the 4 yr. old stallion classes in Denekamp, Giesbeek and Weert, and was a finalist for the IAN Trophy for the 4 yr. old stallions in Ermelo. In 1999, he won the 5 yr. old stallion classes at the Indoor Brabant, Varsseveld, Denenkamp, and Hengelo.
As a 6 yr. old, Nassau was no less impressive. He won the 6 yr. old stallion class in 's Hertogenbosch and Denekamp, the finals of the Twente Cup, and was the M level champion at the Indoor Zeeland under Eddie Brinkman.
After another two years of wins and high placings, Nassau moved up to Grand Prix in 2004 where he had the following results:
2nd Hengelo Grand Prix.
3rd Maastricht
4th Munich CSIO and Roma Piazza di Siena (1.45)
5th Zwolle
6th Affaterbach (Ger)
7th Den Haag and Hannover
In addition to the success at the Dutch and European Championships in 2005, Nassau competed and placed at Grand Prix: 5th Vio Spain, 6th Rotterdam and Aachen, and 7th 's Hertogenbosch, La Baule, San Patrignano, and Barcelona.
The sire of Nassau is the very famous Indoctro, who, with his sire Capitol and grandsire Caletto, belong to the world's top showjumper progenitors. His dam, Gazelle, comes out of the world famous Jolanda ('keur, pref. prest.') of Roel Hagedoorn in Wierden. Jolanda produced, amongst others, the following sport horses: Old Mac (by Mister Wilfred xx) who jumps at 1.40m. level and the international showjumpers Happy Sound (by Lucky Boy xx), Servus (by Lucky Boy xx), My Man (by Tangelo xx) and Cool Cat (by Gurioso). In addition there is the international dressage horse Darwin (by Tangelo xx) and the approved stud stallions Vasco (by Gag xx) who jumps at 1.40m. level, and Hamar (by Mytens xx). Nassau's dam (Gazelle) gained the predicate of "preferent prestatie" in 2002.
Nassau offspring receive a lot of his quality. From the first crop 15 horses were registered in the studbook with 9 "ster" predicates, and one approved son, Thunderbolt. Due to this, Nassau has scored very highly for appearance and action. He is highly valued, and his trot is powerful and well-carried.
---
Stallion Details
Price

Born

1995

Color

Chestnut

Height

16.1 H, 165 cm

Approved For

KWPN

Status

Archived
Performance test 1998 Ermelo: Dressage W 6.5, T 7, C 7.5, TD 6.5 = 27.5 (7th) Jumping TO 7.5, T 8, S 8.5, TJ 8.5 = 32.5 (3rd), Total 60 (3rd out of 13)
2005 KWPN Horse of the Year

WFFS Status: tested negative (N/N)
---
Nassau : PEDIGREE
Indoctro keur
Capitol I
Capitano
Folia
Vanessa
Caletto II
Orgesch H
Gazelle pref prest
Sovereign Bill xx
Sovereign Lord xx
Eternal Truth xx
Jolanda keur pref prest
Darwin
Rosetta
---
Additional Photos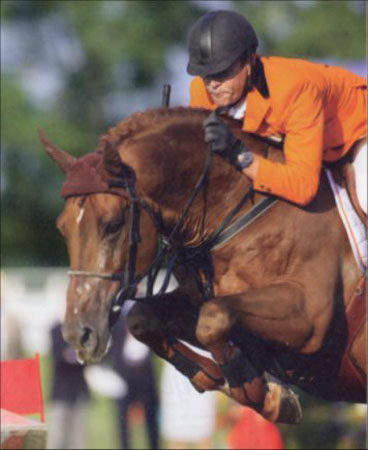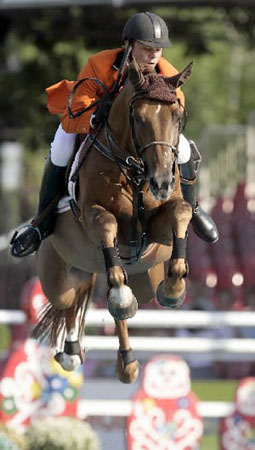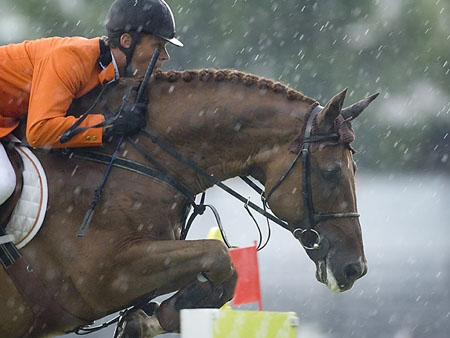 ---