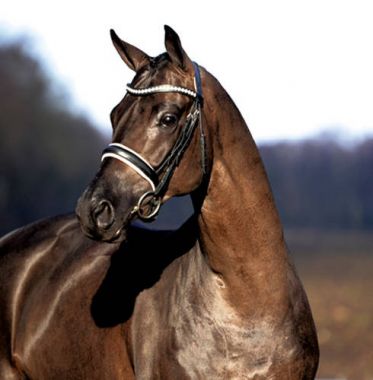 Sire of two 2014 champion stallions and the 2013 dressage winner of his 70-Day performance test.
A roar went through the sport horse breeding press: In the fall of 2014, Millennium had achieved something incredible as a sire. At the Trakehner licensing in Neumuenster and at the Oldenburg licensing in Vechta, Millennium presented two outstanding champion stallions from his first foal crop. Complementing this amazing feat was the licensing of 8 sons in total. This sensation was foretold by the remarkable number of premium awards given to his offspring in many different breeding regions and the top prices reached at various foal auctions.
Millennium is a very special sire with a fascinating silhouette. He was the second Reserve Champion of the 2010 Trakehner licensing in Neumünster, and as a licensed stallion he sold for the highest price of all 2010 German stallion auctions to Gestüt Sprehe and the State Stud Moritzburg in Saxony. All three gaits are of select quality: very smooth and distinguished by a canter that is always uphill and a trot with lots of freedom at the shoulder.
At his 30-day test in Moritzburg in 2011, Millennium proved to be a dressage talent of the best kind, finishing with the second highest score of all participants in dressage. In 2013, he finished his 70-day test in Neustadt/Dosse, where he was in the lead with 8.66 as highest score overall with emphasis on dressage in a group of 37 participants. He also received several times a score of 9.0 and higher (9.25 for each cross-country and rideability). Altogether, he was fifth place (8.17).
Millennium had a first-class debut in sport as well:  In 2012, he won several tests for young riding horses under Kay Pawlowska and was the Trakehner Vice Champion in Hanover. He has since won young horse dressage tests many times.  Because of his success in performance and as a sire, Millennium was awarded the 2012 Oldenburg I-c  High Premium award at the Oldenburg Stallion Days.
His sire, Easy Game, who has an extraordinarily strong step-off, passed not only his 30-day test with well above average scores in Prussendorf but also his 70-day test in Schlieckau and won several elementary (L) and medium (M) level tests for young dressage horses. He has since been trained to advanced (S) level in the Netherlands, and his first offspring are now winning ribbons in youngster sport as well as at breeding shows and licensings.
Millennium's highly prized dam, Merle, did an outstanding job at her broodmare performance test and also gave birth to Millennium's full sister, Maxima, a premium mare who competed in the Finals for the title "Trakehner Champion Mare 2010" and also has high placings in tests for young riding horses. The successful stallions, Ravel, a multi advanced (S) level winner, and the epoch-making Consul from Station Poll-Hörem are found on the dam's side.
Millennium is a member of the East Prussian mare line of Martchen 903 (by Harun al Raschid ox-Exzar-Mameluck-Elfenreigen I-Inselberg-Y. Pilot O181A Mack-Althof Ragnit). This family is also the origin of the licensed stallions, Dante (USA), Mahon (private stallion Lower Saxony, USA), Maiklang (private stallion Rhineland), Maizauber (private stallion Lower Saxony, Hesse), Meilenstein (private stallion Holstein, Lower Saxony), Meisterwind (USA), Mitterand (Denmark), Mohammed (private stallion Lower Saxony, Westphalia), Namur (Belgium) and the internationally successful show jumper Rhodos 71 (by Rex Fritz out of Gracia by Goldcup-Pregel-Altan-Harun al Raschid ox)/Christoph Brüse as well as the Trakehner Elite Mare, Madonna II (by Consul-Habicht).
---
Stallion Details
Price

Archived

Born

2008

Color

Black Brown

Height

16.3 H

Approved For

Trakehner, Hanoverian, Oldenburg, OS International, Westphalia, Rhineland, Southern German societies, and new German State societies

Status

Archived
30 Day Stallion Performance Test 2011 Moriztburg
70 Day Stallion Performance Test 2013 Neustadt-Dosse: Dressage: 8.66, Jumping: 7.68, Overall: 8.17

Breeder: Dr. Bettina Bieschewski

WFFS Status: tested non-carrier (N/N)
---
Millennium : PEDIGREE
Easy Game
EH Gribaldi
Kostolany
El.St. Gondola II
St.Pr.St. Evita XII
Schwadroneur
Elica
Vb.Pr.St. Merle
EH Ravel
Mahagoni
Rauhe
Mazurka Magica
EH Consul
Marussja
---
Additional Photos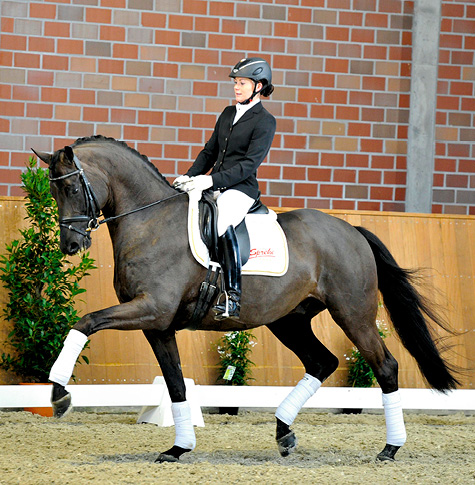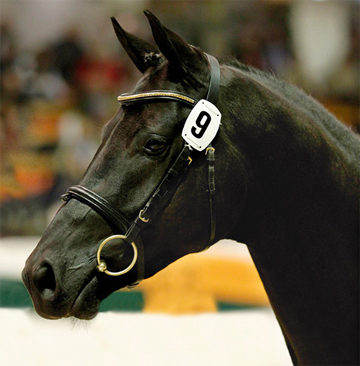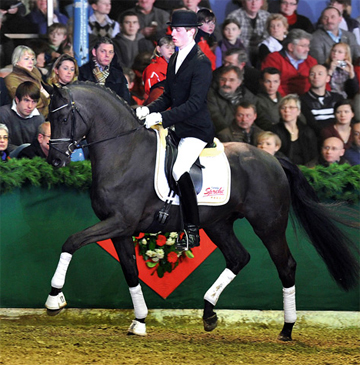 ---