Friesian
Hessel 480
(Archived)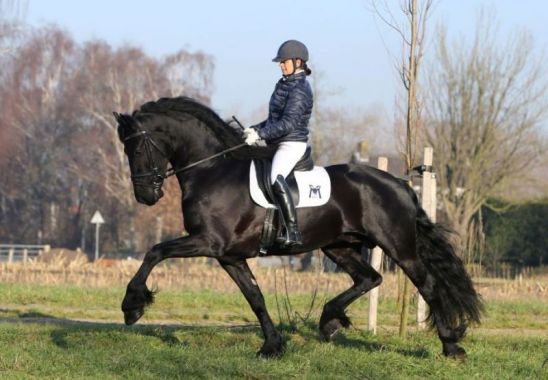 Hessel,because of his type the absolute epitome of a modern Friesian. He's big, has length in the legs and is built upwardly, which is accentuated extra through his long, light neck. He distinguishes himself by strong connections between the different skeletal parts such as neck / shoulder, shoulder / back / loins, followed by a long and well laid cross. That is where athletic ability and sustainability come from!
The legs are of good quality and Hessel, fitting his generous body, correct and large hooves.
In the performance test Hessel stood out by his great way of moving.The trot is absolutely spectacular.A high and far grabbing frond leg, with powerful hind. The stallion moves with a lot of body use, is flexible and can switch. The step is spacious and active with balance.
The bloodlines of Hessel's interesting.Father Norbert 444 is a class apart. For three consecutive years the undisputed HK Champion and from his first two years of descendant many star daughters and sons, several tentative Crown mares and even two approved sons! If this line continues Norbert can become a big one.
Mare of Hessel, Jitscke the Stierenweg is a star daughter Jelke 367. Jelke was a large and modern stallion and a son of born in America and approved Pyt 325. Jitscke van de Stierenweg is still a young broodmare, her first two inspected offspring are both star stated of which Hessel is approved. The dam report describes Jitscke at the age of 10 as a beautiful mare and breed typical, with a lot of quality in the legs, a spacious and powerful step and a good trot with a nice body posture.
The granddam of Hessel, the 1st premium star mare Preference Sports Fryske vd Bosch quarter. Her filly foal of 2012, was Junior Champion at the Breeding Day in Vrouwenpolder and her oldest daughter has three star children of which one son has achieved Sport Predicate .
During the last stallionshow Hessel presented himself great, he fell upon his modern exterior and strong trot! Hessel ran with it to the last four in the championship of the young stallions, a super nice debut for this young stallion at the Stallion Show!
---
Stallion Details
Price

Archived

Born

210

Color

Black

Height

16.3 1/2h

Approved For

Status

Archived
---
Hessel 480 : PEDIGREE
Norbert 444
Tsjerk 328
Feitse 293
Wijke
Amalia-Annie
Hearke 254
Cervia
Jitscke van de Stierenweg
Jelke 367
Pyt 325
Maria v. 't Hop
Fryskev.d. Boschwijk
Gerlof 294
Keltje