Friesian
Gerben 479 Sport AAA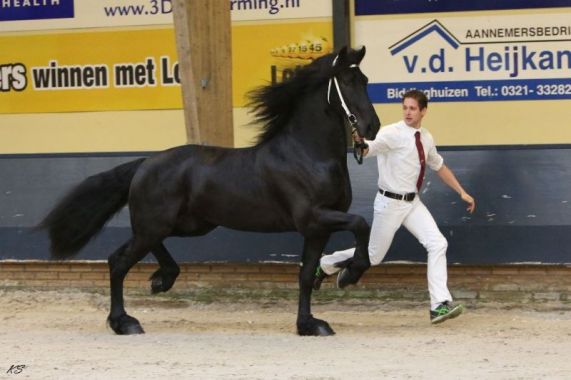 Gerben 479 Sport was born and bred at the well-known stud "van de Olde Mette Moate". Many of their horses have been very successful in the sport and at inspections.
The stallion has three very good paces. His trot is particularly impressive and has been described as "scopey, powerful, with a lot of balance and elasticity". Gerben achieved very good scores during his Performance Test. He was awarded 83.5 points in the harness test (show-driving), and showed a lot of impulsion in all the driven disciplines. Gerben is a modern stallion with youthful appeal. According to the Chair of the Ground Jury Bauke de Boer, he is "a horse with a future." Gerben 479 is a model AAA stallion for scoring 82 points or higher during his Central Examination.
Sabine van de Loenhorst rides the stallion in dressage. She expects him to perform very well in the sport.
---
Stallion Details
Price

Archived

Born

2010

Color

Black

Height

16.2 hands

Approved For

KFPS

Status

Archived
---
Gerben 479 Sport AAA : PEDIGREE
v Doaitsen 420
v Wander 352
v Barteld 292
m Nylke S Star Pref
m Wieke van Schuilenburg Model Pref
v Reitse 272
m Bertina Star Pref
Klaske Evaa D Star
v Sape 381 Sport
v Fabe 348 Sport
m Olcha model Pref Prest
m Wobcke van 't Geerland Star Pref
v Rypke 321
m Ourenske Star Pref