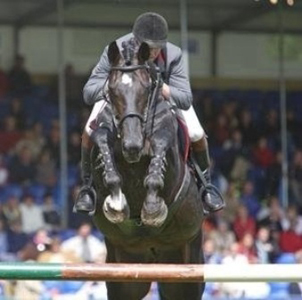 Archived - semen not available
Gem of India is a world class jumper who has impressed not just with his CSI4* talent, but with his stunning looks as well. In 1998, he won the jumping division of his 100 Day Test in Adelheidsdorf. This led to an illustrious career that shone under Grand Prix British rider Ben Maher. In 2007, the pair won multiple Grand Prixs including wins at the Shrewsbury Flower Show in the GKN Sankey Area Trial and then in the Kia Motors Grand Prix. They also went on in 2007 to win the Ann Martin Memorial Cup at the Birmingham CSI3* and the Jump Off at the CSI4* in Chantilly.
Gem of India is sired by Graf Grannus who earned the coveted title of Hanoverian Stallion of the year in 2004. To date, Graf Grannus has sired over 362 broodmares, 48 of which have been awarded the State Premium title. He has 20 licensed sons, of which Ginsberg, Goodman and Graf Top are well known. His current breeding index is 156. In 1995, his son, Golden, was the Hanoverian Licensing champion.
Gem of India's grandsire, Grannus, is one of the most important jumping sires of our time. His offspring have earned over 5 million Euro in competition, and competed in multiple Olympic Games. Grannus has sired 60 approved sons, and stems from a very interesting mare line. His dam, Odessa (Ozean x Gitta by Gotthard), claims Trakehner and East Prussian blood combined with the lines of the legendary Hanoverian stallions, Gotthard and Fling. The latter of which shows up in her mare line twice and is one of the most prolific jumping sires in history.
Gem of India's dam line is also packed with talent stemming from the lines of Cor de la Bryere through the sire, Calypso II. These legendary C lines are again combined with Gotthard and the talents of the Thoroughbred Pik As xx.
Photo: State Stud Celle Archive
---
Stallion Details
Price

Archived

Born

1994

Color

Black brown

Height

16.3-1/2 hands

Approved For

Hanoverian

Status

Archived
WFFS Status: tested carrier (N/WFFS)

100 Day Performance Test, 1998 Adelheidsdorf: Overall: 108.700, Dressage: 92.73,
Jumping: 131.77
---
Gem of India : PEDIGREE
Graf Grannus
Grannus
Graphit
St.Pr.St. Odessa
Goldmaedel
Goldloewe
Goldika
St.Pr.St. Cleopatra
Calypso II
Cor de la Bryere
Tabelle
St.Pr.St. Prinzessin
Picard
Gabi