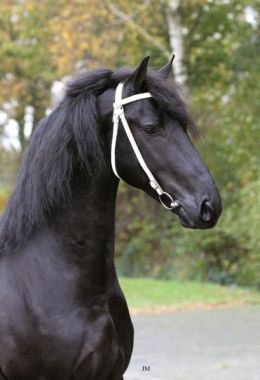 Archived - semen not available
Djoerd is the first approved son of Jerke 434. Like his father, Djoerd has a beautiful exterior with a long, elegant neck. At the Central Inspection he showed a lot of scope and rhythm in all three paces: His walk is big, relaxed and through and good for an 8. Both trot and canter are noteworthy for their regularity and ability to extend.
Djoerd is a very user-friendly horse: He scored 82.5 points in the ridden test and a solid 83.5 points in the driving test. Impulsion, elasticity and a cooperative temperament are characteristic of Djoerd, ensuring a good ride or drive and plenty of talent under the saddle.
The stallion moves with a lot of elasticity and power. Djoerd will be competed in dressage and in harness, proving his versatility and willingness to work.
---
Stallion Details
Price

Archived

Born

2009

Color

Black

Height

16.1 3/4h

Approved For

Status

Archived
---
Djoerd 473 : PEDIGREE
Jerke 434
Onne 376 Sport
Leffert 306 Sport Pref
Ytsje Ster Pref
Reina v.d. Wittewijk Model
Tsjerk 328
Baukje fan 't Reidfjild
Sjieuwkje fan Unia State Ster Pref
Bonne 341
Gerlof 294
Getruda Ster Pref
Wietske fan Unia State Ster
Dirk 298
Jessica Ster