German Riding Pony
Charm of Nibelungen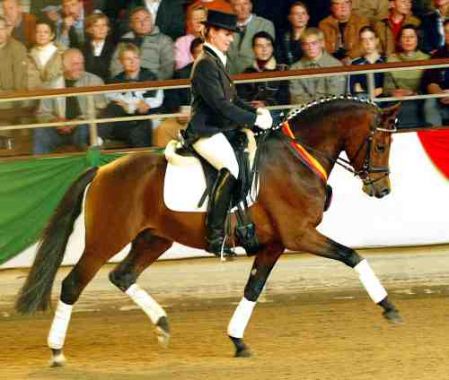 Archived - semen not available
Bundeschampion Charm of Nibelungen is an accomplished pony of Reiner Bockholt Pony Station and an exciting option for North American pony breeders.  He is the son of Chantre'B, stallion performance test winner and licensing champion.  He has consistenly produced quality foals who have won various German foal championships.  Like his sire, Charm of Nibelungen passes on his greatness, strength of type and outstanding movement to his offspring. He completed his stallion performance test for German Riding Ponies (HLP) with 25 other participants and obtained an impressive final score of 8.34.  Six times he scored a 9.0, he was the high score for both trot (9.34) and canter (8.83) and he was the third highest score for interior. 
Charm of Nibelungen has a calm nature and is extremely people friendly and this is some of what makes him so valuable for pony breeding. His dam, multiple German champion St.Pr.St. Nibelungenlied, is related to many licensed stallions, elite and national champions, and the Bundeschampions Nobel Prinz and Naomi.  
Charm of Nibelungen has won numerous riding horse competitions in Germany and became Westphalian champion and was subsequently named Bundeschampion in 2003.  At the Bundeschampionate, he won by an impressive margin in all three stages and did exceptionally well in the foreign rider test.  He was score a 9.5 for trot, 10.0 for canter and 10.0 for rideability.  He was praised by the judges for his abilities.  
---
Stallion Details
Price

Archived

Born

1999

Color

Bay

Height

14.2 hands

Approved For

German Riding Pony

Status

Archived
---
Charm of Nibelungen : PEDIGREE
Chantre'B
Cath Night Safe
Triumph
Prosper of Cat
Pr.St. Variante
Valentino
Goldina
St.Pr.St. Nibelungenlied
Nansen
Nalet ox
Candra
Carmen
Downland Chevalier
Pleiad
---
Additional Photos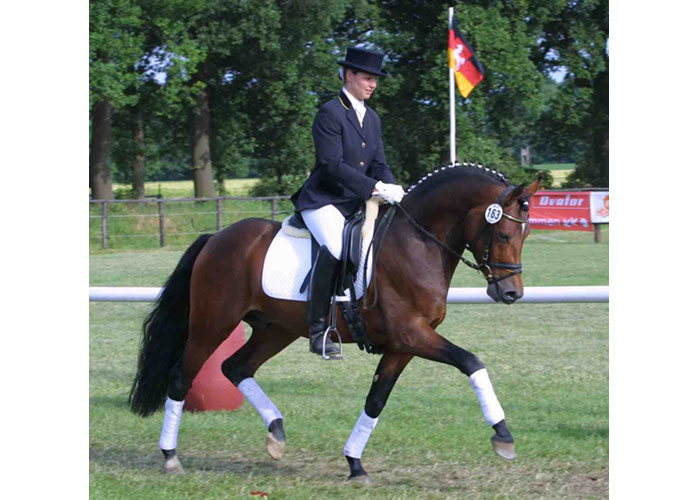 ---