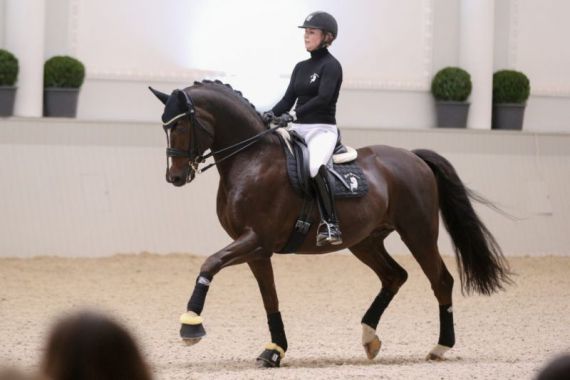 Archived - semen not available
Black Ruby impresses with his brilliant type--an eye-catching silhouette combined with correct legs and flawless conformation. Three first-class basic gaits and a back swinging in rhythm with the gait, promise the best riding.
In 2010 he became celebrated Premium Stallion at the main licensing in Neustadt/Dosse. Black Ruby proved his exellent dressage talent at his 30-day test in Munich, finishing with an impressive 138 points with emphasis on dressage. He also received top scores up to 9.5 for his supple mechanics of movements and for his extraordinary rideability. In 2013 he won effortlessly in elementary (L) level tests for young dressage horses and qualified for the Bundeschampionat of five-year old dressage horses.
At the beginning of the season in 2014, Black Ruby again qualified for Warendorf. Among a group of strong competitors he won the qualifier for the Bundeschampionat of six-year old dressage horses with a score of 8.5 at the Anakenhof in Hamburg. For both walk and canter, he received a 9.0! Now, Black Ruby has several victories in dressage tests at medium (M) level on his performance record.
His first crops, too, convince with true-to-type and strongly moving progeny such as a colt that became reserve winner at the Foal Championship of German sport horses in Neustadt-Dosse. Black Ruby's eldest progeny are already successful under saddle in tests for young dressage horses. They stand out due to their beauty, rideability and lovely character – dressage horses for everyone.
In sire Belissimo M's career one highlight followed another: top auction horses, record stallion performance test winner, Bundeschampion and, finally, successful Grand Prix horse in World Cup qualifiers under Hayley Beresford. But also his sons and daughters attract attention–the popular line of Bolero got important boosts from him: 61 licensed sons, including numerous stallion performance test winning stallions, 134 state premium mares, four Bundeschampions, a high number of participants in the World Championships for young dressage horses, 56 progeny competing successfully in advanced (S) level dressage classes. That's so far the record of this top-class sire.
Black Ruby's dam Durena is full sister of the licensed stallion Danse Diabolique (USA). The dam's sire Donnerhall is beyond any doubt in both sport and breeding and enjoys epochal esteem worldwide.
In the third generation Grundstein II is found. He was captivating with his outstanding quality of movements and presented hard and durable successful horses at the highest level.
Black Ruby comes from the Hanoverian dam line 170/Schneeflocke, which is also known for Lanceur (state stud Marbach), Tambourin (state stud Celle/private stallion) and Trajan (private stallion Rhld.) as well as the dressage stars Biagiotti W and Breitling W from the Wittig family.
---
Stallion Details
Price

Archived

Born

2008

Color

Liver Chestnut

Height

16.2 hands

Approved For

Westphalian, Oldenburg, German Sporthorse, Poland, Baden-Wuerttemberg, Bavarian, Brandenburg, Rhienlander, Sachsen-Thueringen, and all southern German studbooks

Status

Archived
WFFS Status: tested non-carrier (N/N)
---
Black Ruby : PEDIGREE
Belissimo M
Beltain
Bolero
St.Pr. Gaeseliesel
St.Pr. Roxa
Romadour II
Lady
Durena
Donnerhall
Donnerwetter
Ninette
El.St. Dugranda
Grundstein II
Dubina II
---
Additional Photos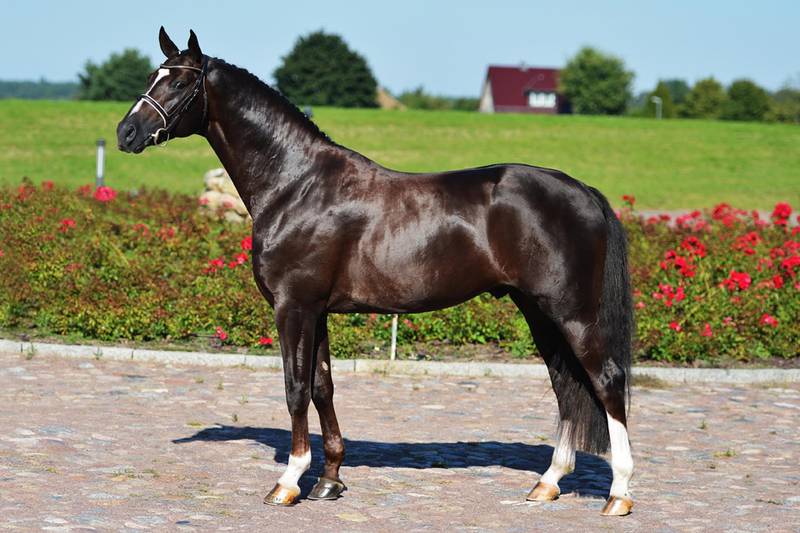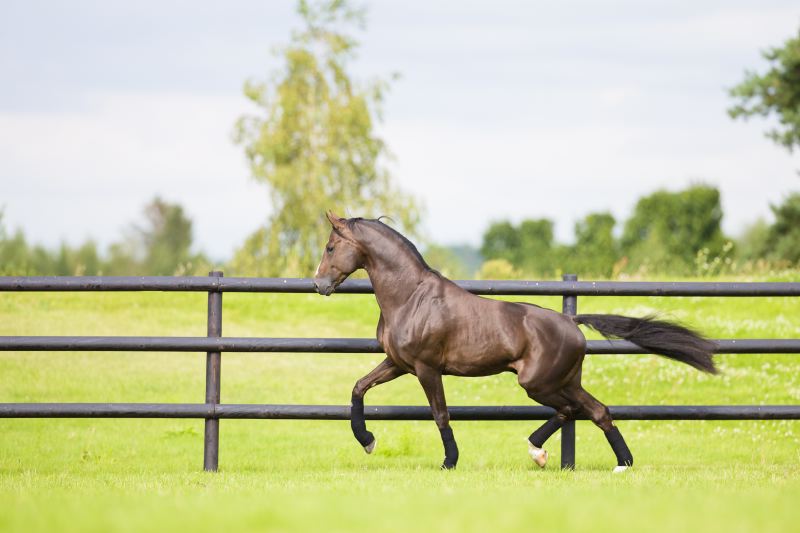 ---