Rheinlander
Belissimo M
(Archived)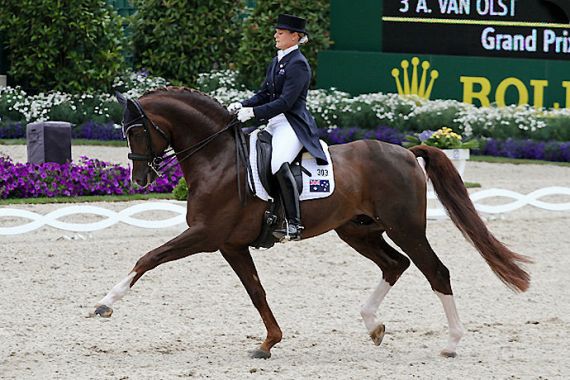 Hanoverian Stallion of the Year, 2018
Belissimo M's daughter, Bella Rose, competed at the 2021 Tokyo Olympics under Isabel Werth for Team Germany! They took home the gold!
Olympic Grand Prix stallion and sire of one of the most talented dressage horses on the international Grand Prix stage, Bella Rose, ridden by Isabell Werth who says Bella is "the best horse of my career". Isabell and Bella Rose placed 2nd in the Grand Prix securing team gold for Germany at the 2014 WEG and then went on to win the 2014 Stuttgart German Masters in November.  
Belissimo M himself was a model student under saddle: top auction horse, record breaking stallion performance test winner, Bundeschampion, and a finalist at the World Championships for young dressage horses.
After a long break from competing, he returned in 2011 to the advanced (S) level, and straightaway he achieved victories and placings in Grand-Prix under Hayley Beresford.The pair went on to represent Australia at the 2012 Olympic Games in London.
In recognition of his breeding significance, Belissimo M was honored with the title Belissimo NRW. The Holsteiner Verband also honored his extraordinary breeding qualities in 2010 by granting him a rare approval to breed Holsteiner mares as a sire of a foreign blood-line.
The offpring of Belissimo M have set records: Nine stallion performance test winners and three vice performance test winners from the first few crops is probably a world record! In addition, there are five Bundeschampions and, with Blickpunkt, there is a double bronze medal winner of the World Championships for young dressage horses in Verden. In 2011, Callaho's Benicio - the eponymous hero of the 2011 Hanoverian licensing in Verden – became the Bundeschampion of the six-year-old dressage horses in Warendorf with dream scores. Benicio also won his stallion performance test with 9.88 in dressage (a 10.0 for trot, walk and canter each) and an 8.43 for jumping!
Belissimo M daughter, Bella Rose, made a huge comeback in sport at the 2018 FEI World Equestrian Games in Tryon, NC.  After four years out with injury, Bella Rose rose to the top with German rider Isabel Werth and Werth scored a personal best of 84.7 to bring Germany to 242.950 points.  This allowed them to continue their dominance of global team dressage competitions and claim their spot on Team Germany for the 2020 Tokyo Olympics. Isabell Werth's double World Champion Bella Rose, currently the best dressage horse in the world.
Belissimo M has produced more championship winners, and many highly priced auction horses such as his daughter, Belandra, who sold for 572,000 Euro to Denmark at the PSI Auction in Ankum. All are the result of Belissimo M's resounding inheritance of riding quality. In 2011, his oldest offspring competed in the advanced class for the first time – already five of them were successful at this stage, several times even as winners.
According to FN's estimated breeding value index, he has been positioned for years nationwide among the top dressage sires. In 2012, he earned a score of 169 index points and in 2014, he was given the score of 149 with 98% reliability. In addition, two of his sons, Basic and Beltoni, were listed in the top 1% of dressage sires in Germany. The 2015 Hanoverian estimated breeding value index places him with the very best stallions with 139 points for the dressage quality of his performance tested daughters, and with impressive evaluations for the heredity transmission of riding horses (129 points) as well as conformation (160 points!).
Belissimo M has already presented over 50 licensed sons including numerous premium stallions in Hanover (310,000 Euro top-prized Bentley), Oldenburg, Westphalia, and Austria where Bellheim became the champion stallion. Furthermore, there are over 85 state premium mares, including the champion mares of Hanover and Bavaria, as well as the 2009 champion mare of Westphalia, Brillante, and the 2011 reserve champion mare, Bella Vista.
This resounding heredity transmission is the result of systematic performance breeding. The sire Beltain was himself successful in the dressage arena up to advanced (S) class and originates from one of the most successful mare lines of Hanover. His dam is full sister of the Celle State Stud sires, Garibaldi I and II, and granddam of Wolkenstein I and II as well as of the Grand Prix dressage horse Little Big Man, the Celle State Stud sires Brentano I and II, as well as Beauvalais who was the 2002 World Equestrian Games silver medalist, and 2004 Olympic bronze medalist.
Belissimo's dam, Roxa, produced, when bred to Boss, three successful full siblings in dressage up to advanced (S) level: Bonnie Bianco, Baccarole and Boutique.
---
Stallion Details
Price

Archived

Born

1999

Color

Liver chestnut

Height

170 cm, 16.3 H

Approved For

Westphalian, Rheinlander, Hanoverian, Oldenburg, Bavaria, Sweden, Holstein and all Southern German Stud Books

Status

Archived
Stallion Performance Test 2002 Zweibrücken, 30-day: Overall score: 1st place / 9.25, Dressage score: 9.63, Jumping score: 8.77

FN Breeding Values 2014: Dressage: 149 / 98%,
Hanoverian Breeding Values 2015: Dressage: 139, Jumping 94, Riding Horse 129, Limbs 160

WFFS Status: tested non-carrier (N/N)
---
Belissimo M : PEDIGREE
Beltain
Bolero
Black Sky xx
Baronesse v. Bleep xx
Ganseliesel
Grande
Marbel v. Marcio xx
Roxa
Romadour II
Romulus I
Gunda v. Gruenfink
Lady
Lucius xx
Welfe v. Welfenprinz
---
Additional Photos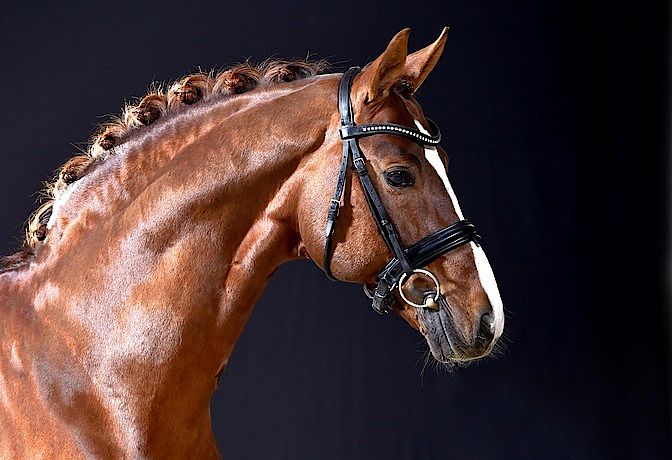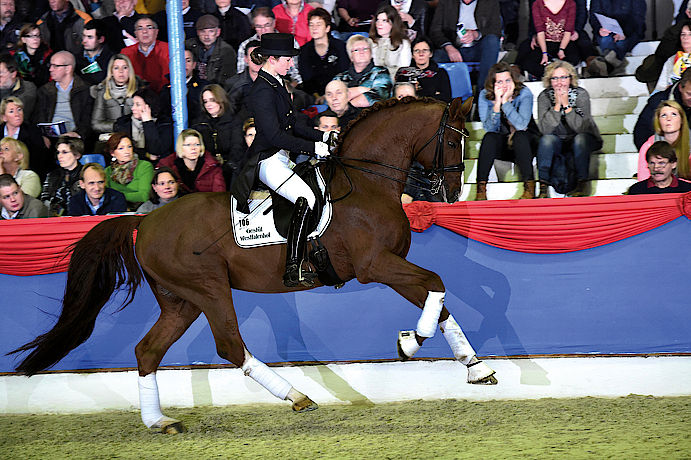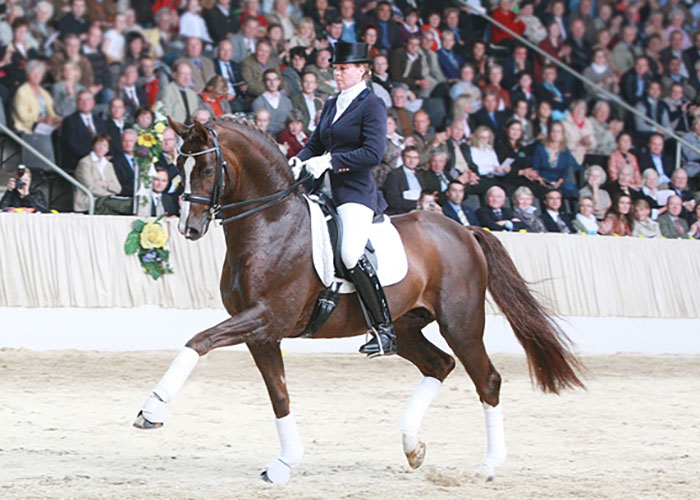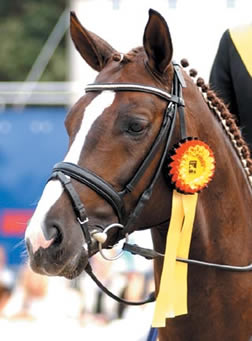 ---