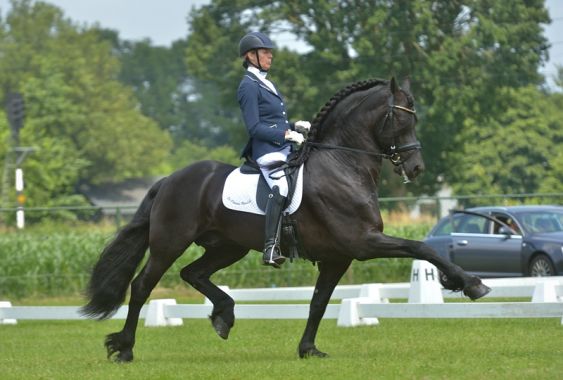 Archived - semen not available
Bartele successfully completed the 2012 autumn Stallion Inspection of the KFPS. He was invited to participate due to his impressive performance under saddle. The stallion is typical for his breed, with a beautiful front, strikingly expressive head, long, luxurious mane and tail and a deep black coat. His exterior is very correct, with an uphill conformation and well-positioned loins. Throughout his Performance Test, Bartele showed tremendous eagerness and willingness to work. In trot, he has an impressive ability to extend, with plenty of reach of the hind and front legs. He demonstrates considerable talent for all disciplines, with an impressive ability to collect and extend, an active hind leg and beautiful front. His beautiful conformation, high-quality pedigree and solid work ethic make Bartele a particularly interesting stallion.
Marijke Folmer currently competes Bartele with great success, high scores and countless wins in advanced-level dressage. 
---
Stallion Details
Price

Born

2008

Color

Black

Height

16.2

Approved For

Status

Archived
---
Bartele 472 : PEDIGREE
Onne 376 Sport
Leffert 306
Tamme 276
Bontsje Ster Pref
Ytsje Ster Pref
Hearke 254 Sport Pref
Korrie Ster Pref
Liefke fan 't Brillehof ster
Tsjerk 328 Sport Pref
Feitse 293 Pref
Wijkje Model Pref Prest
Zilver Boszorg Ster Pref
Anton 343 Sport
Joys Boszorg Ster Pref