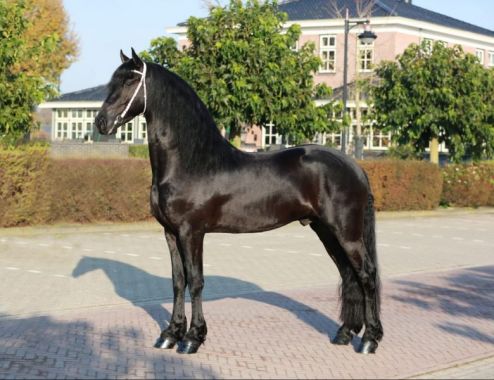 With several eights on his final score, Auwert 514 left a super score in the 2019 Central Exam. With respectively 81 points for the riding test, 82 points for the driving test and no less than 86 points for the harness test, this young stallion is a real talent.
The sire of Auwert is Jehannes 484, a superior breeding stallion whose first year left a good impression on Friesian breeding. His dam, for the time being Kroonmare Gerlinde D. comes from a particularly preferentially rich dam line, from which the following stallions were born: Sibald 380, Ulrig 204, Eelke 183 and Walling 161.
In front of the carriage, Auwert moves with great posture, good movement technique and good capacity for transitions. He also showed a positive attitude for showdriving and working with lots of intention and willingness. He moves with a satisfactory uphill outline and has an attractive posture and front.
Auwert 514 has been noticed for his talent in canter. He was described by the jury as a luxury stallion with a good attitude and a fine rideability. In addition, the jury praised him for his correct construction and his beautiful frontend. He can improve the leg work, movement, canter and attitude of the offspring. 
---
Stallion Details
Price

Archived

Born

2016

Color

Black

Height

16.1 hands

Approved For

KFPS

Status

Archived
---
Auwert 514 AAA : PEDIGREE
Jehannes 484 Sport
Tsjalle 454 Sport Pref
Mintse 384 Sport
Welmoed Fan Fjildsicht Star Pref
Femke Van Dedgum Star Pref
Oepke 266
Tsjollie Star Pref
Gerlinde D. Star
Andries 415 Sport
Tsjerk 328 Sport Pref
Gitte Star
Wynanda D. Star Pref
Folkert 353 Sport Pref
Berlinda H. Star Pref
---
Additional Photos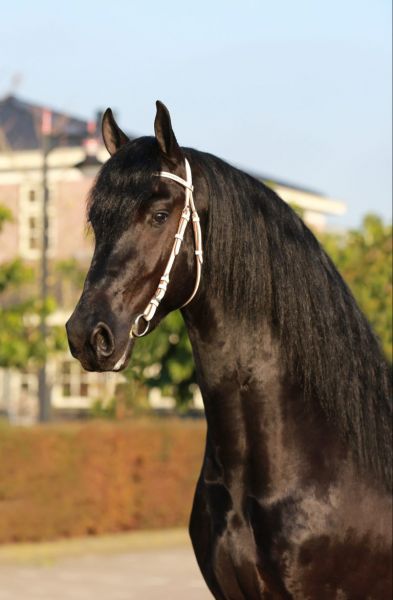 ---