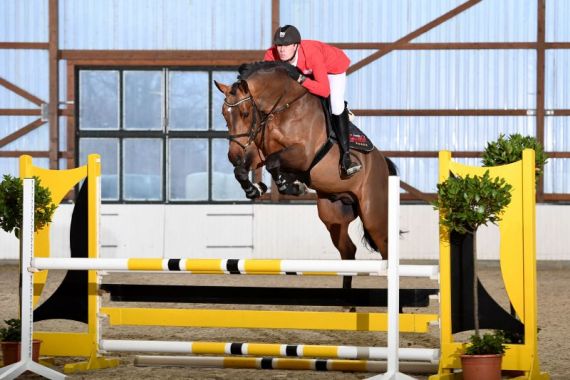 Archived - semen not available
Amazon truly is a jumper stallion in a class of his own.  This large-framed, clear-defined athlete is an absolute eye-catcher.  He is true to type and gifted with enormously ground-covering basic gaits. At the jump Amazon is distinguished by intelligence combined with fast reflexes, good jumping technique, as well as, ability and bascule that leaves nothing to be desired. Of course, all these attributes placed him at the top of the 2015 Westphalian stallion licensing.
His sire A la Carte NRW was the 2010 NRW licensing winner and, despite of his activities in breeding, he is highly successful in show jumping.  In 2014 A la Carte placed in the final of the Bundeschampion for six-year old show jumpers; in 2007 he was celebrated winner of the Bundeschampion for seven-year old show jumpers under Kendra Claricia Brinkop.
The dam's sire Arpeggio convinces with internationally competing masterpieces, above all All Inclusive NRW/Ludger Beerbaum and Denis Lynch (IRL), Allerdings/Marco Kutscher and Acomet/Theo Muff (SUI) and many others.
The black Polydor son Potsdam, who won many international grand prixs (such as Leipzig, Redefin and Nörten-Hardenberg) under Heinrich-Wilhelm Johannsmann, is found in third generation. The versatile sire Maraschino, found in fourth generation, won many show jumping classes at advanced (S) level.
There is a noticeable inbreeding through the top sires Polydor and Acord II in the pedigree. Amazon comes from the original Hanoverian dam line 663/Kedute (by KirklandChasseur-Königsleutnant etc.), which is at home in Westphalia for many years.  He continues to produce top-class horses for show jumping.  This dam line is also known for 20 licensed stallions such as Apart, Fangio (licensing winner), Galant, Grünberg, Patriot, Silvester (all state stud sires Warendorf), Goldbach (private stallion Westphalia), Lord Extra (private stallion Bavaria), Polansky (private stallion Oldenburg), Polidiktus (BEL), Ramon (NL), Rosenstein (state stud sire Moritzburg) und Tempico (private stallion Westphalia), furthermore the successful dressage horse Ricardo S/Silke Schärffer and the show jumper Inverness 2/Wolfram Herre.
---
Stallion Details
Price

Archived

Born

2013

Color

Bay

Height

16.3 hands

Approved For

OS-International, Oldenburg, Wesphalian, Rhinelander, Mecklenburg, German Sport Horse (DSP)

Status

Archived
WFFS Status: tested carrier (N/WFFS)
---
Amazon : PEDIGREE
Al la Carte NRW
Abke
Acorado I
St.Pr.St. Contendra
St.Pr.St. Luxilla
Lux Z
Verb.Pr.St. Pernilla
Verb.Pr.St. Aspanja
Arpeggio
Acord II
St.Pr./L.St-S Perle
Paradie
Potsdam
Melodie
---
Additional Photos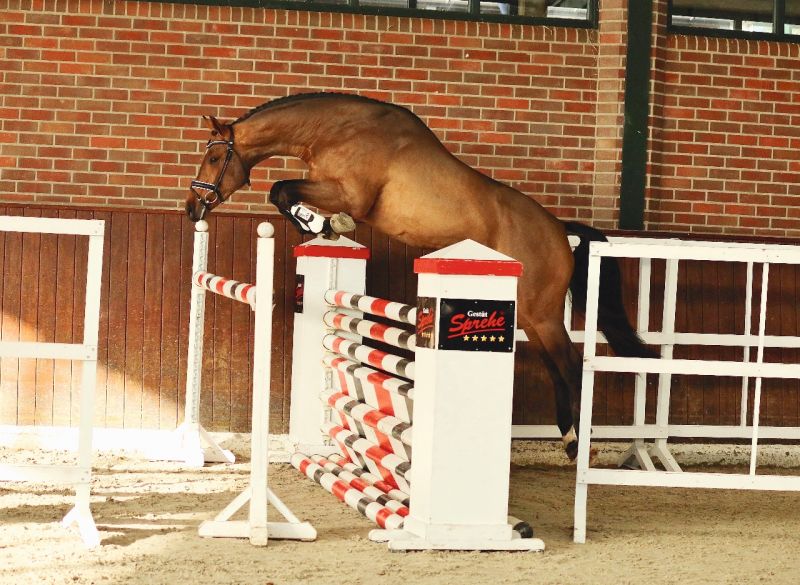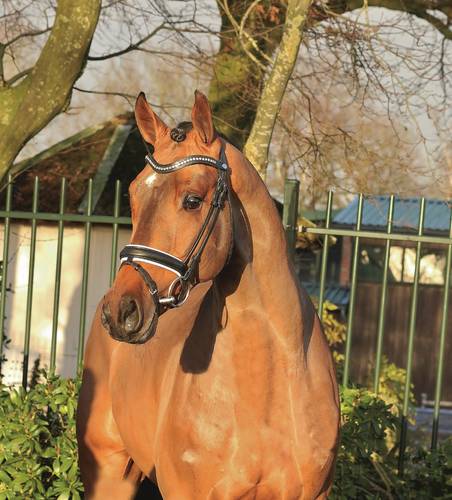 ---