Friesian
Alwin 469 Sport AAA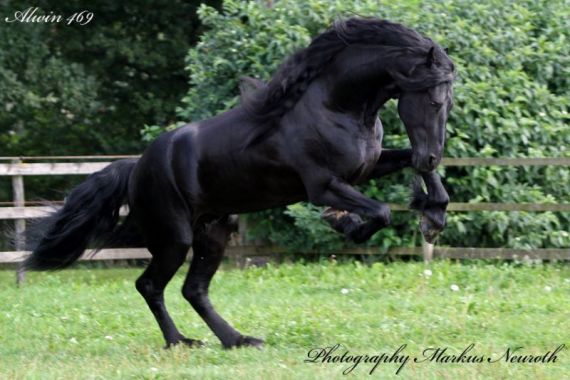 Alwin 469 Sport is a very interesting stallion whose success started at a young age.  As a foal he was awared 1st premium. His dam, Waldiena BL is a star mare who unfortunately died early, but before was able to produce three Star offspring. Alwin 469 was described as friendly and attentive at his Central Examination in 2011 where he was named a model AAA stallion for scoring over 82 points.
Alwin moves with great tact, rhythm and suppleness. In all disciplines he gives his trainer a good feeling particularily through his active hind legs and balance. Alwin has a great talent as a harness horse. He bring interesting blood to the Friesian breed adn is a stellar combination of a sports father (Felle) and a Model grandsire (Tsjerk). 
Alwin has a very nice head with his beautiful eyes are very appealing. He passes his most desirable characteristics to his offspring. In the breeding value index his descendants place very high and also possess much balance and suppleness. Alwin progeny all have, like their father, a beautiful silhouette, a deep black color, a willing attitude and a large swinging walk. Tiede 501 is his first approved son. Many decsendants of Alwin score very well on their inspections and ABFP tests. In the 2017 KFPS breeding index, Alwin has the highest breeding value figures for exterior and movement. These traits make him a popular choice for breeders. 
In recent years the daughters of Alwin have placed in the top in sport such as daughter, Sanne TT. She was in 2014 junior champion in Delden and in 2015 Junior Champion in Drachten, where her trot was awarded a 9. The mare Valentina fan 'e Ridderdijk was also very successful. She was junior champion at the Central Exam in 2015 and Junior Champion at the breeding day in Kootwijk. Champion of the fillies; Zaza for the Meikade, another young Alwin 469, was also successful at this event.
Alwin is currently being ridden by Nynke Mulder, the duo last season already achieved great results and are on the rise in Zs dressage. Alwin 469 always manages to stand out in the various disciplines and in the long lines he shows his big step and spectacular trot. 
---
Stallion Details
Price

Archived

Born

2008

Color

Black

Height

16.3 hands

Approved For

KFPS

Status

Archived
---
Alwin 469 Sport AAA : PEDIGREE
Felle 422 Sport
Lolke 371 Sport
Oege 267 Preferent
Zwaantje F Star
Zorinda D Star Pref
Gerlof 294
Ordina Star Pref.
Waldiena BL Star
Tsjerk 328 Pref Sport
Feitse 293
Wijkje Model Pref. Prest
Jildoou fan Vriesburg Pref
Oege 267 Pref
Ninke Star
---
Additional Photos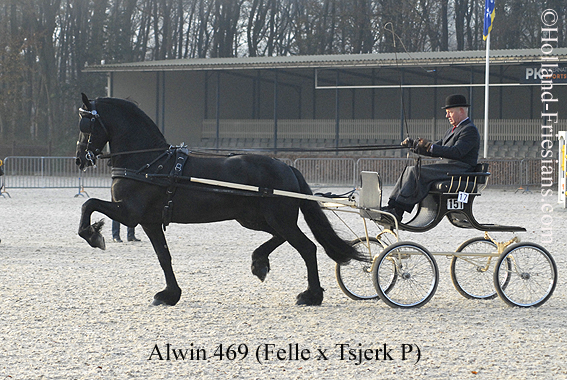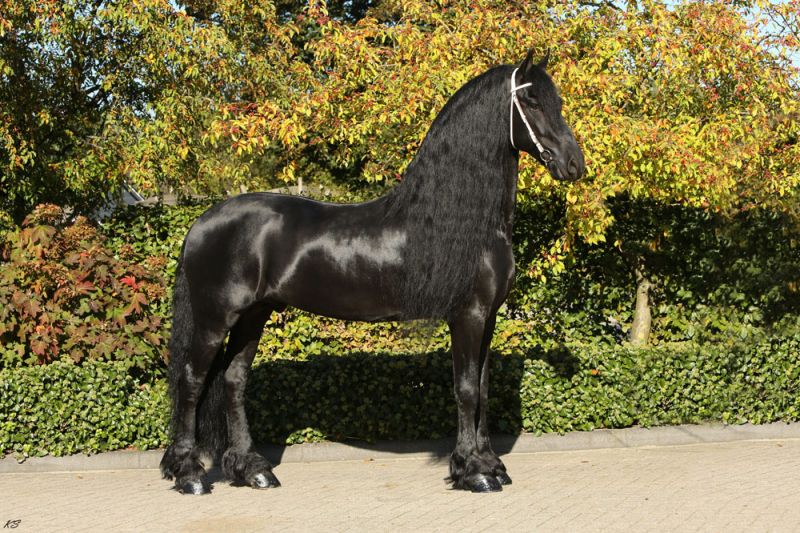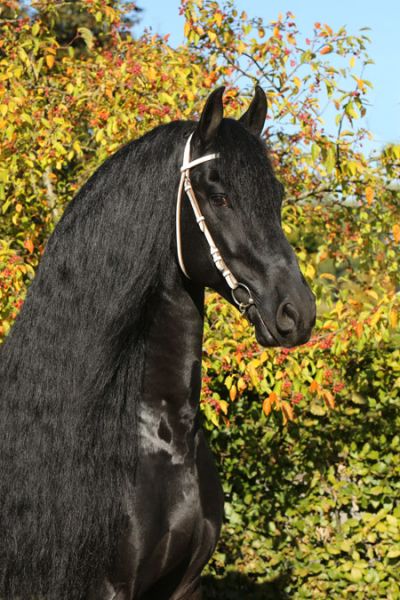 ---